Make sure that the products in the cart are correct!
You will be asked to enter your order details after the payment. Proceed to the secure PayPal payment site with the "Checkout" button.
Your cart is empty. Please choose your package and click Add to Cart button.
Visit The Shop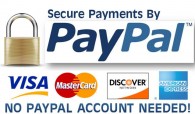 Secure Payments: All payments are handled using 256-bit encryption and secured by PayPals payment handling system. You are able to pay with Credit Card even if you are not registered with PayPal. No Credit Card information is being handled or stored outside of PayPal's secured payment system.